Deluxcious Restaurant invites you on a sensory dining journey into the culinary world of fusion delights.
It's all part of a package that embraces the ultimate in relaxation. Sign up for a spa treatment upstairs and be treated to a sumptuous (and did we mention complimentary?) set lunch downstairs. This place offers the best of both worlds-holistic pampering and mouth-watering food.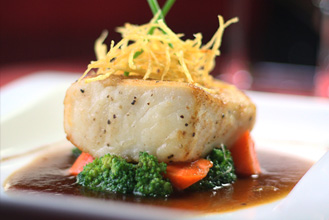 Chef Keith Khoo's unique spa cuisine is made up of dishes that are healthy, yet exciting. With flavors and textures combine in a very distinctive way to tantalize your tastebuds. Clearly, Khoo is well versed when it comes to Western cuisine but what is found to be very interesting is how he infuses local herbs to add a different twist to each dish. The result? A wide selection of fusion fare that you won't find anywhere else!
Award winning Penangite Chef Keith Khoo has brought his experience in Singapore's prestigious Ritz-Carlton Hotel with him. His philosophy to good food is all about "Freshness".

Everything served on a plate here is edible which means that all items used to enhance the aesthetic value of the dish should be just as delicious as the food itself. Guests will now be able to experience this fine cuisine during lunch and dinner. The dishes are clean and light, not to mention the focus on the inherent natural flavors of the key ingredients. Our chef ensures that each dish meets a variety of dietary and nutritional goals.